Super Teaching Strategies

How Learning Occurs and Why Learning is Not About Being Smart!
Preview Video
What Will I Learn?
✅ 2 Strategies to instantly motivate your students to want to learn (Just plain awesome!)
✅ How to change student behavior in a heartbeat
✅ 3 simple ways to improve student grades for your entire class and go from feeling overwhelm to feeling awesome in just 10 minutes
✅A proven way to match your students' learning style with the school's written testing style (This tip is the key to amazing grades!)
✅The single most successful way for your students to get A's on their very next spelling test
✅3 dynamic memory strategies so your students will recall content in any subject
✅A simple, but overlooked strategy so your students learn their math facts in half the time
✅Picture Perfect Summaries that accelerate your students' learning 5 times over
✅Using music to boost your students' focus and memory
✅3 Rapid Reading Skills so your students read twice as much in half the time
Special note to teachers from Pat Wyman:
Chances are there are days when you simply feel overwhelmed with all your responsibilities both in the classroom and out.
But TBT - we teachers all need to make a choice, and find a way so that we move from frustration to fabulous and these strategies have been proven for over 30 years to do just that.
Thousands of teachers have told me that these are the exact strategies they wish they'd learning in their teacher ed courses. And literally, as you'll see in the videos, I'm jumping for joy that we've connected with this course.
If you want to feel more energized during your teaching day, and experience a truly peaceful classroom, then you're in the right place.
I know first-hand how stressful teaching can be, but with these shortcuts you'll have a blueprint you can use for your entire teaching career.
Not only do you see your students thrive, but you feel the deep down joy and pride in helping kids learn - just the same as when you first started teaching!
That - all by itself, is the real value in this course - and something that transforms your teaching and your life, for all the years to come.
If you have any questions while taking this course, feel free to email me at raisingsmarterchildren (at) gmail.com.
And be sure to check out our site at HowtoLearn.com for all the free resources and awesome content!
This course is for teachers and parents. It is delivered over 4 weeks, with videos once per week.
Special Note: Teachers, you may take this course for 4.5 (3 semester) continuing education units from California State University, East Bay for an additional fee to the University. Please email the instructor at fasterlearning (at) gmail.com for more information.
Raise Your Students' Grades and Test Scores Now!

Super Teaching Strategies is an 8 week online video course, that gives you practical and innovative strategies to help your students or your child learn any subject more easily.

Learn at the hours best for you, no more driving to class to help your child or student get better grades

Use the strategies in your classroom or home at times you select - this course is used in over 3000 schools.
Pat Wyman, M.A., is considered "America's Most Trusted Learning Expert". She brings you time-tested "How to Learn Anything Fast" strategies that are proven to raise k-12 student grades and test scores in all subjects. This course has been taught via California State University since 1989 and thousands of students have raised grades, test scores, and standardized test scores. It is used in more than 3,000 schools.
Who Should Take This Course?

This online course is for virtually anyone who wants higher student achievement and a blueprint so that students are motivated to learn.
It is recommended for K-12 teachers, parents, school administrators, counselors, RSP teachers, school psychologists, and those in academic help centers. Since the class maybe taken with or without units, parents and classroom assistants may also take this course.
Pre and post test data on over 500,000 students show that over 95% of students using the strategies raise their grades to A's and B's.

If you are asking your child or student to learn and recall information more effectively, Super Teaching Strategies empowers them to understand "how to learn" and not just what to learn.
Students will master learning styles and be able to instantly choose which learning style works best for each subject area.

Many children are frustrated in school and receive lower grades because there is a gap between how they learn and how the school tests.
In other words, there is a mis-match between their learning style and the school's testing style. This course bridges that gap and shows easy to learn techniques, along with a life-long blueprint for raising grades and test scores.
Darrington School District Special Projects Coordinator, Beryl Mauldin, says, "This is probably the most helpful and inspiring educational workshop our teachers have ever taken! Pat's Super Teaching Strategies presentation to our staff was absolutely mesmerizing. She held our participants' attention throughout and presented concepts that we think will revolutionize education."
Here's what teachers and parents are saying about Super Teaching Strategies Course:

"Pat is every teacher's dream of what the perfect instructor should be! She offers practical & innovative techniques in a very effective way. My students' grades have increased dramatically!"
- Susan Enfield, Ed.D.
Superintendent, Highline Publish Schools, Burien, WA
former teacher, Homestead High School

"Super Teaching Strategies was fabulous! After learning the Super Speller Strategy, I was able to bring a smile from ear to ear on a student who normally has very little success. I knew I had empowered her and now all the other students are still calling her a "Super Speller"! The results from this course have been remarkable."
- Suzanne Licht, Highlands Elementary School

"I got hands on, motivational and practical strategies to enhance learning for all students to be successful."
- Judy Wand, Elementary School Teacher

"I used Super Teaching Strategies with my At-Risk kids and their behavior changed completely for the better. They all had a longer attention span, and could easily focus on their work."
- Cindy Kleiber, Urbana Jr. High School, Urbana, Ohio

"Pat Wyman's two-day Super Teaching Strategies presentation to our staff was absolutely mesmerizing. She held our participants' attention throughout and presented concepts that we think will revolutionize education. When she proposed a new concept, she had research to support her strategies and practical examples our staff could easily relate to. The most valuable part of her In-Service is that we learned that there are truly practical solutions to the most challenging mysteries in education today's children.
This is probably the most helpful and inspiring educational workshop our teachers (and some specially-invited parents) have ever taken! If you have the opportunity to participate in one of Pat Wyman's Seminars, by all means do so!"
- Beryl Mauldin, Special Projects Coordinator
- Rita Mauldin, Library Media Specialist
- Darrington School District #330
Darrington, Washington
Your Instructor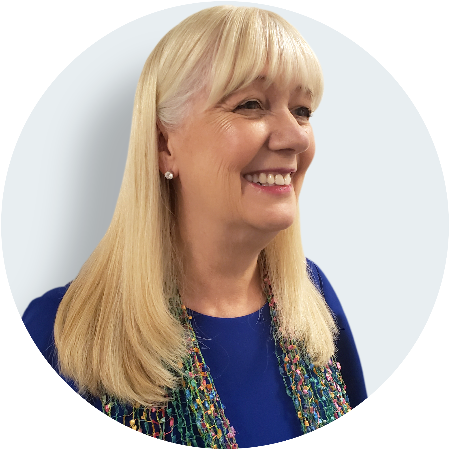 Dear Parent,
Have you ever thought about what you'd do and how your life would look, if only your child could get excellent grades in school right now? How would your child feel with excellent grades?
Let me ask you a few questions and if you answer yes, then you know you're in the right place.
Is your child, over the age of 12, underperforming in school, getting poor grades, lacking confidence in their ability to learn, read, remember and test well?
Are you feeling exhausted both mentally and physically, not knowing the best way to help your child improve their grades, in the right way, so that you know they are prepared to reach their potential and have a successful life - no matter what the circumstances?
Do you know your child is bright but they just can't seem to show it in school? Does it seem like you're going through nightly homework hassles? Do you feel like you've tried everything before but nothing has worked and your heart is simply breaking over it? Allow me to share a secret with you...
Here's The Biggest Secret Every Parent Needs to Know About Learning
What I've discovered, devoting my life to helping students succeed, is that schools tell your child what to learn but they don't show them 'how to learn' it.
And if your child is like the millions of others who don't enjoy school, and don't know 'how to learn', then sadly they are punished with bad grades, really low self-esteem, exclusion from the activities they love, and much worse. And it's all so unnecessary.

Not having the skills to know 'how to learn' and succeed in any any subject, whether it's 7th grade math, or the college or graduate school entrance exams, wreaks havoc in your life and in theirs. It causes you and your child heartache and pain every single day.
So, my promise to you is that there is a proven system to remove this pain and transform your child into a confident, successful student, who is prepared to learn and test well in any set of circumstances.
Introduction
My name is Pat Wyman. I'm the CEO and founder of HowtoLearn.com and we've been online two years even before google.
Over 500,00 students have benefitted from my 3 bundle course, called Total Recall Learning. Students raised their grades, test scores, and their confidence in themselves. What's more, thousands of teachers, all over the world, continue to take my course to empower their students with all the tools they need to succeed in school.
Your child will reap the rewards of my 30+ years of devotion, compassion and dedication to their success. I'm a noted, internationally known learning expert, award-winning best-selling author, University Instructor and Reading Specialist who gets results for your child. I've even taught medical students how to get higher scores on their medical board exams.
You may have seen my work in publications like the Washington Post, global webinars with companies like Microsoft, on the cover of Nick Jr. Family Magazine, or during hundreds of radio and t.v. shows.
My own children used the strategies in this course as well: my daughter fulfilled her life-long dream of becoming a doctor who helps save the lives of tiny, sick infants, and my son used this course all the way through college and grad school to help children in the Child and Protective Services Program and to become a screen writer.
Total Recall Learning is based on cutting-edge brain research, teaching your child how learning occurs and why learning is not about being smart.
It contains 3 unique courses that show your child how to learn, study in the most effective way, focus; how to have an extraordinary memory and how to double their reading speed.
You can expect to see transformations in your child the first three days we work together.
I designed it to give your child the extraordinary learning advantage they need and deserve in school and in life!

Total Recall Learning opens up a whole new world for your child. They prove to themselves that every single strategy works and it builds their confidence from the minute they begin. Your child receives all the learning, world memory champion, and faster reading strategies they need to reach their potential, and become the highest expression of themselves.
The results: Your child's confidence soars as they use their newfound skills.
They master learning strategies that apply to all subjects, whether it's reading, math, physics or learning another language.
They will learn how to remember anything and everything, how to motivate themselves on-demand, and focus in a new, more powerful ways that makes the most of, and respects their precious time.
Your child learns the best way to stay organized, take notes that go into their long-term memory, how to study the way their brain learns, and how to double their reading speed, using two proven methods based on long-proven brain research.
Expect to see lots positive changes in your child throughout this course - and most of all, you'll both be smiling and jumping for joy when they bring home the report card they dreamed about.
If you decide to give your child the gift of Total Recall Learning you will be helping your child succeed in life, in ways you can't even imagine.

You'll help them secure results now as well as a better future because you gave them the most essential skill of their lifetime - 'how to learn'. They will be prepared for any new learning in any set of circumstances as they graduate and move into the 21st century workplace.
When your child knows 'how to learn' it helps them to get ahead faster, re-skill or upskill to take on new responsibilities, get a better paycheck at work, and learn whatever they need to, should they decide to change careers.
My mission in this Total Recall Learning Program: To completely empower your child with everything they need for higher grades now and a lifetime of learning success because they know how to learn anything fast!
Warmly,

P.S. When your child enrolls in this course, we donate a free course to a child in need.
Course Curriculum
Module 1
Available in days
days after you enroll
Module 2
Available in days
days after you enroll
Module 3
Available in days
days after you enroll
Frequently Asked Questions
When does the course start and finish?
The course starts now and never ends! It is a completely self-paced online course - you decide when you start and when you finish.
How long do I have access to the course?
How does lifetime access sound? After enrolling, you have unlimited access to this course for as long as you like - across any and all devices you own.
What if I am unhappy with the course?
We want you to be happy. We have a 30-day total-satisfaction guarantee. If for any reason you are not satisfied just contact us at raisingsmarterchildren (at) gmail.com and we will be happy to refund your course fee.