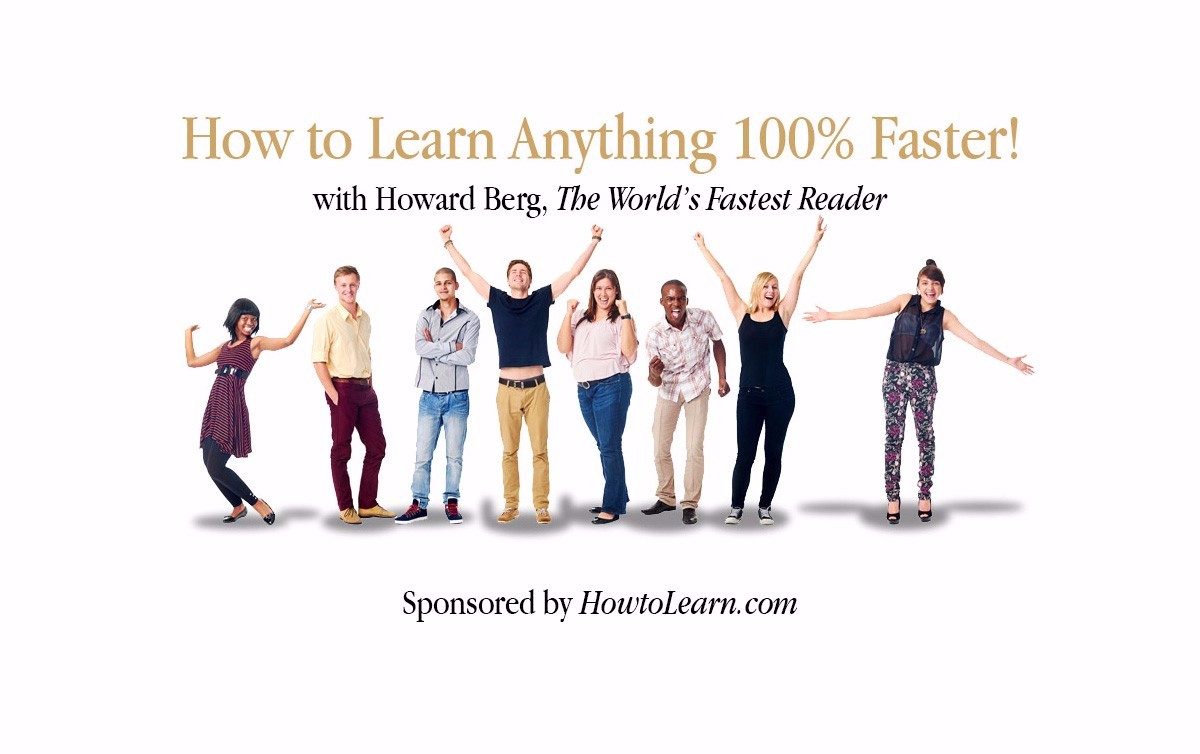 2 Free Gifts with this 60 Minute Mini-Course
In this bite-size 60 minute mini course showing you how to learn anything in half the time, Howard Berg, The World's Fastest Reader, gives you learning, reading, math and memory strategies from his 5 Course Bundle, How to Learn Anything 100% Faster, so you will know how to:
✅ Double Your Reading Speed with Excellent Comprehension
✅ Write Faster and More Effectively as You Nix Writer's Block
✅ Double Your Productivity
✅ Do Math Calculations, including Powers, in Your Head
✅ Become a Memory Ninja!
✅ Get the Emotional Intelligence Skills to Create Instant Focus and a "Feel Great" State in Any Situation
✅ Get the Skills to Master on the Job Training More Quickly to Increase your Chances of a promotion
✅ Learn 'How to Learn" so that You Can Quickly Master Any New Learning in Any Setting
✅ Have More Free Time to Do the Things You Love Because Learning is Faster
BONUS: Howard has two very special FREE gifts for you on this course.
1) How to Eliminate Test-Taking Anxiety (use this at work, in school or even when taking a driving test.
2) Save thousands of dollars by using Howard's program - How to Graduate College in Three years Instead of Four
Howard Berg makes your learning fun! He has a wonderful sense of humor and shows you how to turn information overload into information assets.
In today's information rich world, the mot successful people are constantly learning new things. That is what keeps them successful!
But learning can take a lot of time and Howard created numerous brain-based learning techniques to show you how to learn things in half the time it normally takes.
Enjoy this 60 minute mini course and be sure to find out the secrets that great readers use to double their reading speed (or more); how people use these strategies to raise grades, test scores, graduate college sooner, master new information more quickly to be in a better position for job promotions and discover how to learn anything 100% faster!

Once you finish this course, grab your spot in the Howard's complete 5 course bundle - How to Learn Anything 100% Faster!