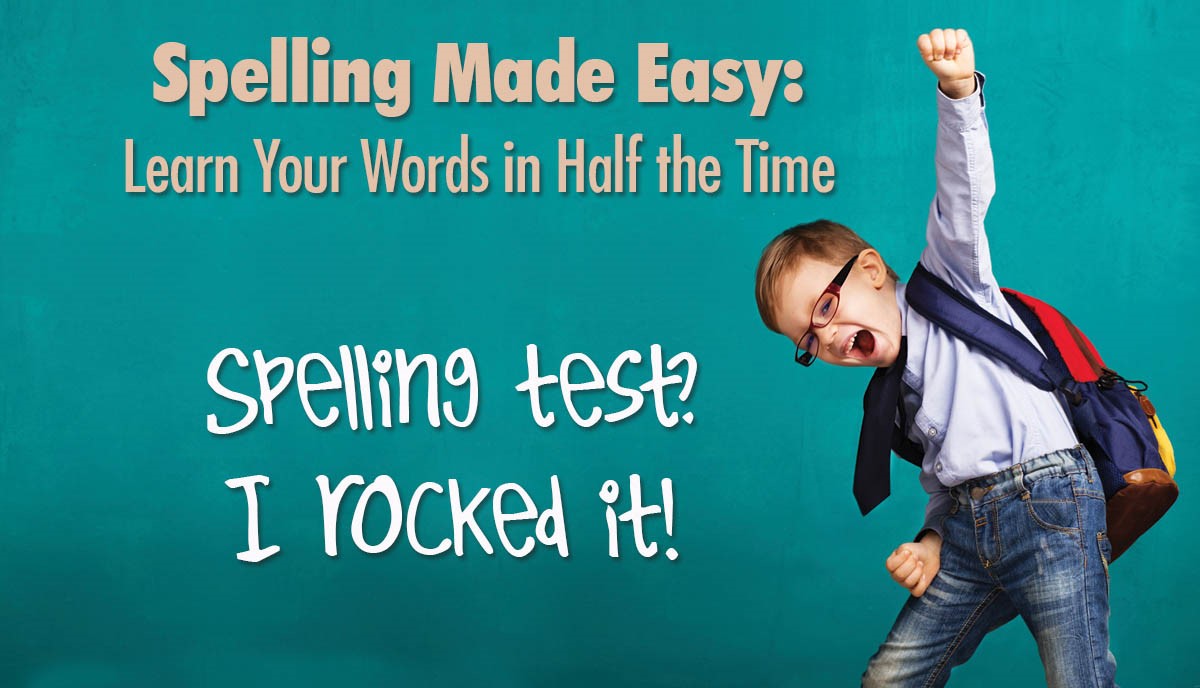 Spelling Made Easy: Learn Your Words in Half the Time!

Say goodbye to spelling test blues and hello to, "I rocked it!"
Your child is not a poor speller, they just don't have the right tools.
In just one hour, Spelling Made Easy teaches your child the same method that spelling bee champs use.
Plus you get extra bonuses with the course like a pdf of the most commonly misspelled words so your child can quickly learn those words too!
Your child will learn their words in half the time, because they are not writing them down 10 times each any more, and come home with better grades and more confidence.
(And you don't have to drill spelling words any more while you're cooking dinner - I promise!).
This Spelling Made Easy online course is for anyone who wants to save time and learn the exact recipe that Spelling Bee champions use to get higher grades in spelling. And no more monthly fees for courses that extend learning time past what it really takes.

Great spellers do not use phonics when they learn and recall words - they rely on how the word looks in their mind.
So, if you're feeling the daily hassles of telling your child to write their words over and over, and to study their words aloud with you in the car on the way to school, you can enjoy this extra time and have fun instead!
Imagine the smile on your child's or student's face, and imagine their pride when they come home with excellent spelling grades. each week!

Think about how good you will feel and how nice it will be to put aside the weekly drama of studying for spelling tests. The benefits for your child are endless too.
If your child has been struggling in spelling and suddenly experiences success, imagine how many more things in school can turn around too.
What Will I Learn?

✅The single strategy that A+ spellers rely on
✅Why great spellers do not use phonics
✅How to build up your child's or student's confidence
✅How to practice spelling words before the test
✅How to cut learning time in half
✅The Success Blueprint for higher spelling grades

In this class, your child will learn how to confidently become an excellent speller in half the time. The reason? No more writing words down 10 times each, no more using words in sentences and no more practicing words aloud before the test.
Once your child learns this very easy to use strategy, you can expect higher grades on the very next test because he or she will follow the simple strategies that spelling bee champions use.
This comprehensive class has five lessons that will show your child why phonics is not the strategy that excellent spellers use, show them how to visualize your spelling words, and how to successfully recall your words during your spelling test.
You will understand the learning modalities that outstanding spellers use to become a great speller.
There is one hour of video, a pdf and a bonus list of the most commonly misspelled words to practice, plus lifetime access anytime, on any device. This course gets you guaranteed results and you will see higher grades. .
Tired of Painfully Low Spelling Grades?
Tired of the weekly struggles at home when studying for spelling tests?
Want to know the memory strategy of spelling bee champions to raise spelling grades?
Does your child or student write their words down 10 times each, or in sentences, and seems to know them before the test, then forgets during the test?


Has your child or student used the old-fashioned flash cards and they did not work but you don't know why?


Does your child frequently bring home poor spelling grades?


Do you practice your child's spelling words aloud before the test, then again, during the test, your child seems to forget what they learned?


Do you want your child or student to get excellent spelling grades?


Do you want your child's confidence in spelling and other subjects to soar, and then to celebrate when they bring home terrific grades in spelling?


Want to stop the nightly struggles in spelling homework?



Want the same strategy as Spelling Bee Champions Use?




Then Spelling Made Easy: Learn Your Words in Half the Time is for you!


AUDIENCE FOR COURSE

Parents, Teachers Students - and anyone who wants to improve their spelling. Ask the instructor up to 3 questions by emailing her using the contact from at HowtoLearn.com

LENGTH OF COURSE
This course contains a preview section where you ask your child specific questions before watching the video, the spelling video you watch with your child or students, a bonus list of both the typical spelling words for all grades, as well as another bonus list of the commonly most mis-spelled words.
The course itself lasts about 1 hour.
Please begin your practice sessions, but cutting down the spelling word list, to ensure your child builds up their self-confidence and to see success sooner!
After learning this very simple strategy that all spelling bee champions use, student grades can improve dramatically in a very short time.
Materials you will need:


Get a few sets of 5 inch by 7 inch unlined note cards from the office supply store on online store - Make sure they are the ones in various colors.

Get a large pack of thin-tipped markers from the office supply store - lots of colors.

Get a box of some type where your child can stand the words up alphabetically in it so they can store what they've done - and review later. Usually a plastic recipe box that holds index cards is good.

If you have questions, please email your instructor, Pat Wyman, at raisingsmarterchildren@gmail.com